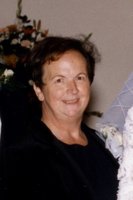 Barbara Nault
Barbara E. Nault, age 83, of 122 Juniper Way, Basking Ridge, NJ, passed away Friday, February 9, 2018, at her residence in Assisted Living in Whippany, where she was in the loving care of the staff of Arden Courts for three years.
Barbara was born in Ishpeming, Michigan to Benjamin H. and Eleanore (Zryd) Hassenger. She graduated from Ishpeming High School in 1952. She attended Northern Michigan University until her marriage in 1955 to her husband, Larry, Ishpeming High School, 1953.
As her growing family moved across the country – living in seven states before settling down in Basking Ridge in 1974 – Barbara embodied the adage "home is where the heart is." Her kind and generous spirit created friendships and neighborly connections wherever she went. She led her children to join in YMCA swimming and diving teams, Boy and Girl Scouting, religious instruction, and music lessons. She sewed costumes for the Wizard of Oz and Mikado school productions, oversaw children's paper routes and babysitting schedules, playdates and sleepovers, all on top of preparing daily meals for ten (think, packing all those lunches!). Barbara considered her greatest contribution to society to be the kind, capable, and tireless nurturer of her family, and her love for her eight children and husband.
Once in Basking Ridge, she and her best friend, Annette Kielau, both consummate volunteers, led the Rolling Hills Girl Scout Council's troop, and their own children, in countless projects and travels, with a particular highlight to the Assateague National Seashore in Maryland and Virginia (1975-1981).
Barbara, Meta Wyndrum, and Carmen Fortenbacher introduced post-mass "hospitality" to St. James Church's chapel services in the 1980s. She was a weekly host at the popular and successful "holy bingo" fundraiser under Father Joseph Wade and Jim Morris. Barbara brought that same energy, service, and dedication to St. Joseph's Shrine, which she and her husband attended from 1996 to 2013.
After the last child left the nest, Barbara began a second career at the Social Security Administration. Beginning in the Jersey City call center, and retiring as a beloved technical supervisor, Barbara's knowledgeable, calm, and caring ways earned her high accolades and deep regard as a mentor to many. This, and the daily commutes with Martha Terry, lunch dates in Manhattan, and Friday night bowling in Bayonne with colleagues, earned the gift of new and diverse friendships.
In retirement, Barbara volunteered in multiple capacities for the Somerset County Visiting Nurses Association (VNA) for over 15 years. She was an active member of Bonafides of Somerset Hills, and supporter of its civic charities.
Barbara loved to travel and often accompanied her husband on his consulting assignments to 24 countries across Europe, South America, and Asia. Always game for an adventure, her question, "Will I get to go?" signaled the moment for a joint appraisal of the trip's feasibility for her to join him. More often than not, the two would set off together, and Barbara undertook independent forays to learn more about the geography, culture, history, and people of the destination, while Larry worked studiously on the given assignment. Their companionship greatly enriched their lives and the work trip that took them there.
Barbara is survived by her loving husband of 63 years, eight children, Barbara (Wayne) Henderek of Titusville, NJ, Brigid Nault of White Bear Lake, MN, Louis (Donna) Nault of Darien, CT, Stephen (Paula) of Stockton, CA, Laura (David) Massell, of Burlington, VT, Mark (Shannon) Nault of Dallas, TX, Mary (James) Calvano of Franklin Lakes, NJ, Susan (Kenneth) Grula of Jacksonville, FL, and twenty-two grandchildren and two great grandchildren.
Barbara is predeceased by her brother, Benjamin C. Hassenger and their parents.
A funeral mass will be celebrated at St. James Church, 184 S. Finley Ave, Basking, NJ on Thursday, February 15, at 11 AM. The Nault family welcomes friends to Visitation at Gallaway and Crane Funeral Home, 101 S. Finley Ave, Basking Ridge, NJ on Wednesday, February 14, from 4 to 7 PM. Burial will be in Somerset Hills Memorial Park in a family plot. For further information, or to light an online condolence please visit our website at www.gcfuneralhome.com. In lieu of flowers donations may be made in her memory to the Alzheimer's Association at www.alz.org