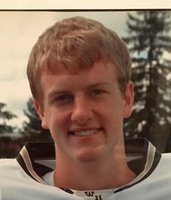 Christopher J Brennan
Christopher Joseph Brennan, 26, of Stirling, NJ passed on January 28, 2018 in Boynton Beach, Fl.
Christopher was born in Morristown, NJ, was raised in Long Hill Twp., and was a member of St. Vincent de Paul Parish. He played football and basketball with passion throughout his school years and at WHRHS. He graduated from Rutgers University in 2014 and went on to pursue a career in Sales. He truly loved sports, music, the Giants, the ocean, his dog Jessie and more recently skydiving and the mechanical bull. He was a good friend to many, with a loveable, funny and generous spirit.
Christopher is survived by his loving parents, Tim and Melissa (McCarthy) of Stirling, NJ. He is pre-deceased by his grandparents Joseph and Carolann Brennan, and Jack and Georgia McCarthy. Also, survived by numerous Irish aunts, uncles, cousins and friends. He and Gee are together.
Visitation will be held at Gallaway and Crane Funeral Home, 101 S. Finley Ave, Basking Ridge NJ on February 1, 2018 from 4:00 – 8:00 pm. Funeral Mass will be held at St. Vincent de Paul Church, Bebout Ave, Stirling, NJ on Friday, February 2, 2018 at 11:00am. For further information, or to light an online condolence candle please visit www.gcfuneralhome.com