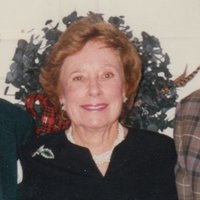 Jean Ziebarth
Jean Miles Ziebarth died peacefully on January 16, 2018, at Winchester Gardens in Maplewood, New Jersey. Jean was born to Lillian and Oliver Miles on August 4, 1927. She grew up in Garden City, Long Island, went to Garden City High School and graduated from Mount Holyoke College in South Hadley, Ma. On February 14, 1947, Jean married the love of her life, Jack Alvin Ziebarth and settled in Basking Ridge, New Jersey. She enjoyed traveling with her husband who was willing to visit the many old cathedrals and museums which she loved.
Jean is survived by four children, Jody Ziebarth, Michael Ziebarth, Susie Delaporte and Amy Ziebarth and nine grandchildren.
Jean felt strongly about education and was proud of her college degree. It was important to her that her children and grandchildren all worked to obtain a degree in higher education. In lieu of flowers donations can be made to the educational institution or nonprofit of your choice.