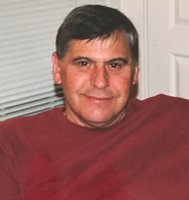 Joseph A Chipparullo
Joseph A. Chipparullo
Loving family man and friend to many
Joseph Arthur Chipparullo of Bernardsville, NJ passed away at home among family on Thursday, January 18th, 2018. Visitation will be held on Tuesday, January 23rd from 2-4p.m. and 6-8p.m. at Gallaway & Crane Funeral Home, 101 S. Finley Ave, Basking Ridge, NJ. A funeral service will take place on Wednesday, January 24th at 11:00am at St. Mark's Episcopal Church, 140 South Finley Ave, Basking Ridge, NJ.
Born in Morristown, NJ in 1948 to Baraise and Elizabeth Chipparullo, Joe lived almost his entire life in Bernardsville,on the same street he was born and raised. He graduated Bernards High School in 1967, where he was a talented varsity athlete on the football field, basketball court, and baseball diamond, his accomplishments earning him an honored place in the Bernards High School Athletic Hall of Fame. "Chip" met his best friends during his high school years, as well as the love of his life, Mary Donner, of Basking Ridge. After graduation, he spent time at Centerville College in Iowa, Hartford College in Maryland, and served in the Army National Guard during the Vietnam War. He worked for the last 38 years in the automotive aftermarket industry, most recently with Stan Padover Associates where he was a sales rep. Joe served as a past president of the Bernardsville Lions Club for several years, receiving their Distinguished Service Award, and was recognized by the Citizens for a Better Bernardsville as a top volunteer. He remained connected to his hometown community all his life.
Above all, Joe loved and lived life fully, cherishing laughter and friendship in constant supply. He enjoyed listening to music, fishing, golfing, following sports games with friends, and spending seasons in the bleachers watching his son playfor the Special Olympics and his daughter's own Bernards High School and college career. His favorite pastime of all was being home with his best friend and wife, Mary, where he could often be found outdoors appreciating his backyard full of flowers and birds, surrounded by his beloved pets.
Joseph is survived by his high school sweetheart and loving wife of 46 years, Mary, his son Andrew, of Bernardsville, NJ, his daughter, Jennie, of Oakland, CA, his sisters JudyStreeter of Bernardsville, NJ, Nancy Bennett of Berkeley Heights, NJ, and his niece Amy Bridge of Plainville, CT. In lieu of flowers, the family requests that donations be made in Joseph's honor to the Special Olympics Area 10 of New Jersey or a local organization of your choice.
For further information, or to light an estimate Boone condolence candle please visit www.gcfuneralhome.com