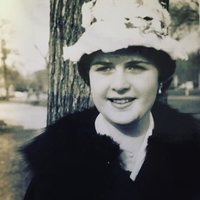 Georgeine Lorentzen
Georgeine H. "Grammy" Lorentzen of Stirling, N.J. died peacefully on Monday, January 15th, 2018. Friends may visit with the family on Thursday, January 18th from 2 to 4 p.m. and 6 to 8 p.m. at the Gallaway & Crane Funeral Home, 101 S. Finley Ave, Basking Ridge, NJ. Memorial Service will be celebrated on Friday, January 19th, at 11 a.m. at the funeral home. Burial will be in Somerset Hills Memorial Park,Basking Ridge. For further information, or to light an online condolence candle please visit www.gcfuneralhome.com
Born in Jersey City, N.J., Georgeine was the daughter of the late George and Helen Powell. She graduated from Dickinson High School in Jersey City, and lived in Stirling for more than 50 years. Georgeine worked in communications for more than 25 years, with companies such as Lucent Technologies, AT&T and Bell Labs in Murray Hill, Warren and Whippany, N.J. She was a member, and former deacon, of the First Presbyterian Church in Stirling for many years, and once served as the church's secretary.
Georgeine lived a life full of wonderful moments and was dedicated to her family. She made family vacations special, especially the beach holidays that she loved so much, and worked tirelessly to make sure everyone's birthdays and Christmas celebrations were memorable. She was proud of her Irish, Welsh, and English roots, which she loved to toast with family and a wee pint of Guinness. She had an indelible bond with her late, devoted sister Dorothy, with
whom she ran up many a costly nightly phone bill in conversations about their families. We pray that their reunion is a glorious one!
Georgeine is survived by her two cherished children, her son Eric, of Fredericksburg, Va., and her daughter Jill Jeckell, of Westfield, N.J.; and three grandchildren whom she spoiled rotten, Garrett, Vivian, and Charlie; and her much-loved niece Janet and nephew Gary.
"Thanks to the human heart by which we live,
Thanks to its tenderness, its joys, and fears,
To me the meanest flower that blows can give
Thoughts that do often lie too deep for tears."