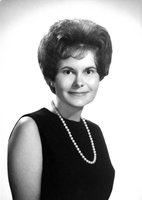 Genevieve Guzik McNiff
GENEVIEVE G. McNIFF, 81, A LONGTIME RESIDENT OF THE BASKING RIDGE SECTION OF BERNARDS TOWMSHIP, DIED ON WEDNESDAY, JANUARY 10, 2018 AT THE MORRISTOWN MEDICAL CENTER.
GEN, AS SHE WAS KNOWN TO FAMILY AND FRIENDS WAS THE DAUGHTER OF THE LATE STANLEY AND SOPHIA GUZIK, WAS BORN IN NEW YORK CITY ON JANUARY 21, 1936, BUT GREW UP IN BRONXVILLE, NEW YORK. SHE ATTENDED LOCAL SCHOOLS IN THE WESTCHESTER COMMUNITY BEFORE MOVING TO BOSTON TO ENROLL IN SIMMONS COLLEGE WHERE SHE MAJORED IN MARKETING AND RETAILING.
UPON GRADUATION SHE BECAME AN ASSISTANT BUYER FOR LORD AND TAYLOR AND LATER WAS PROMOTED TO CHIEF BUYER OF TEEN WEAR FOR THE NEW YORK STORE. IN 1964, HOWEVER, WANDERLUST HIT AND SHE AND TWO FRIENDS TOOK OFF FOR A THREE MONTH TOUR OF EUROPE AND THE MIDDLE EAST. ON HER RETURN SHE ACCEPTED A POSITION AS FASHION CONSULTANT WITH EASTERN CHEMICAL COMPANY AS SYNTHETIC FIBERS WERE INTRODUCED INTO THE FASHION INDUSTRY
IN 1967 GEN MARRIED ROBERT B. McNIFF, A WIDOWER AND TOOK ON THE RESPONSIBILITY OF RAISING HIS FOUR YEAR OLD DAUGHTER ALRIE, IN 1968 SHE GAVE BIRTH TO A SON WILLIAM THOMAS THUS BECOMING A FULL TIME STAY AT HOME MOTHER.
IN 1983 THE FAMILY MOVED TO BASKING RIDGE WHERE SHE WAS A MEMBER OF THE SAINT JAMES ROSARY SOCIETY AND CHARTER MEMBER OF THE LOCAL AARP CHAPTER AND FOR TEN YEARS CHAIR OF THE TELEPHONE COMMITTEE. AN AVID BRIDGE PLAYER, SHE ALSO ENJOYED GIVING ELIGENT DINNER PARTIES FOR FRIENDS AND BUSINESS ASSOCIATES OF HER HUSBAND.
WHEN HER CHILDREN GRADUATED FROM COLLEGE, THE WANDERLUST RETURNED AND THE COUPLE VISITED SOME FORTY COUNTRIES AND NUMEROUS EXOTIC ISLANDS OVER THE NEXT TWENTY YEARS. IN ADDITION TO HER HUSBAND, SHE IS SURVIVED BY HER SON WILLIAM McNIFF AND HIS WIFE MARY, STEP DAUGHTER ALRIE DANIELCZYK AND HER HUSBAND STEVEN AND FOUR GRANDCHILDREN, KEVIN DANIELCZYK, ELAINE DANIELCZYK. EMILY McNIFF AND SARAH McNIFF.
VISITATION WILL BE HELD ON FRIDAY, JANUARY 19, 2018 AT GALLAWAY AND CRANE FUNERAL HOME, 101 S. FINLEY AVE, BASKING RIDGE, NJ FROM 4:00 – 7:00 PM. FUNERAL MASS WILL BE HELD SATURDAY, JANUARY 20, 2018, 11:00AM AT ST. JAMES CHURCH, 184 S. FINLEY AVE, BASKING RIDGE, NJ. FOR FURTHER INFORMATION, OR TO LIGHT AN ONLINE CONDOLENCE CANDLE PLEASE VISIT WWW.GCFUNERALHOME.COM