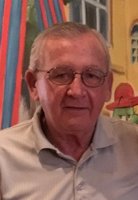 John Barbaria
John Bennett Barbaria, 71, of Basking Ridge, NJ passed away peacefully with his family at his side, on Wednesday, January 10, 2018.
John was born in Bogalusa, LA to Louise (Lowery) and John Barbaria on October 9, 1946. He later moved to Staten Island, NY where he graduated from Tottenville High School. He served in the Marine Corps from 1964-1967, spending two years in Vietnam where he earned several medals of good conduct.
He was a machine operator and supervisor at various companies including Lipton Tea Co., Exopack Inc., Mars Inc., and most recently at Jettron Products, Inc. in East Hanover, NJ.
John was a beloved husband, father, uncle and grandfather ("Poppy") who enjoyed fishing, hunting, fixing anything and everything, and cheering for all of his grandchildren's activities.
He is survived by his loving wife, Angelina; his daughter Tina Mattiola and son-in-law, Paul, and three grandchildren, Pauli, JJ and Olivia Mattiola all of Basking Ridge, NJ; his brother and sister-in-law Michael and Linda Barbaria of Staten Island, NY; and his sister Linda Holland of Baton Rouge, LA.
Memorial Service will be held at Gallaway and Crane in Basking Ridge on Monday, January 15, 2018. Anyone who wishes to make a donation in his memory may do so to St James Men of Charity PO Box 310 Basking Ridge, NJ 07920. For further information, or to light an online condolence candle please visit www.gcfuneralhome.com