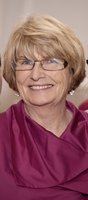 Eileen Hirce
Eileen Gleeson Hirce, beloved wife, mother and grandmother, passed away on January 5, 2018, at Compassionate Care Hospice Center at St. Clare's Hospital in Dover, NJ. She was 72.

A graduate of St Bonaventure University, with undergraduate and masters degrees in biology, Eileen worked as a researcher at the Rockefeller University in New York City, taught biology at CUNY in the Bronx and at Maryville University in St. Louis, and taught AP biology and anatomy and physiology for eleven years at Mount Saint Dominic Academy in Caldwell, NJ, where she inspired a generation of young women to become doctors, nurses and researchers.

Eileen is survived by her husband, John Hirce, her three children, Kathleen, John and Margaret, and three grandchildren. Visitation will be held on Tuesday, Jan. 9, 2018 from 5-8 pm at Gallaway and Crane Funeral Home, 101 South Finley Ave., Basking Ridge, NJ. 07920. Funeral Mass will be held on Wednesday, Jan. 10, 2018 at 10:00am at Our Lady of Perpetual Help Church, 111 Claremont Road, Bernardsville, NJ 07924. Entombment will follow at Holy Cross Cemetery, Basking Ridge.

In lieu of flowers, the family has requested that donations please be directed to Why Hunger, https://whyhunger.org/give-now/?am2=, an organization co-founded by Harry Chapin, whose music has been an inspiration and comfort to Eileen and her family.