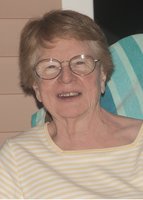 Gloria Fulton
Gloria Adams Fulton, 93, passed away peacefully on Wednesday, January 3, 2018 at Bryan Manor in Gladstone NJ.
Gloria was born in Irvington, NJ on April 24, 1924. She was raised in Nutley, NJ and attended Our Lady of Good Counsel High School in Newark and then went on to graduate from Caldwell College. Gloria moved to Bernardsville in 1949 with her husband, N. David Fulton, where they raised 6 children. Gloria was a member of Our Lady of Perpetual Help Parish and The St. Elizabeth School's PTA. She then lived in Bedminster for 34 years before moving to Gladstone.
After retiring from the Great American Insurance Company, Gloria traveled to Italy, enjoyed family vacations at the beach and spending time with her beautiful grandchildren, who she absolutely adored. She enjoyed attending the live theatre with friends, visiting museums and the botanical gardens. She also volunteered at the Second Chance Shop in Gladstone.
Gloria was is survived by her son David of San Francisco, CA., Mary of Ocean Shores, WA., Martha of Denver, CO., Jeanne (Kevin Klein) of Chester, N.J., Nancy of Basking Ridge, N.J. Kathy (Bill Coppel) of St. Louis, MO.; and 2 grandchildren, William and Grace. She is also survived by her brother Bob Adams (Pam) of Landing, N.J., her sister-in-law Patricia Fulton Scott of Reston, VA, and many nieces and nephews. Gloria was predeceased by her husband Dave, her parents Frank and Cecelia Adams, her sister Jeanne Kelly and her brother Frank Adams.
Visitation will be held at Gallaway and Crane Funeral Home, 101 South Finley Ave. Basking Ridge, NJ from 4PM to 7PM on Monday, January 8, 2018. The Mass of Christian Burial will be held at Our Lady of Perpetual Help in Bernardsville on Tuesday, January 9, 2018 at 11AM. Interment will follow at Holy Cross Cemetery in Basking Ridge. For further information or to light an online condolence candle please visit www.gcfuneralhome.com
In lieu of flowers, donations in Gloria's memory may be made to Bryan Manor, 600 Old Chester Rd., Gladstone, N.J. 07934 or The Visiting Nurse Association of Somerset Hills. https://www.visitingnurse.org/ways-to-help/donations/