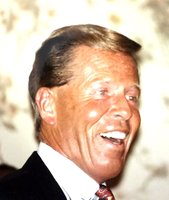 Dean Raymond O'Hare
Dean Raymond O'Hare formerly of Far Hills and Jersey City, New Jersey died Sunday, December 3, 2017 at their home in Palm Beach Florida. His beloved wife Kathleen and family surrounded him.
Dean was born June 21, 1942, in Jersey City. The son of the late Anne and Francis O'Hare. He is survived by his wife Kathleen Theresa O'Hare, (nee Walliser) his two sons Dean Jr. and Jason and his three grandchildren, Emma, Gavin and Olivia.
He is the retired Chairman and Chief Executive Of?cer of the Chubb Corporation.
A leading voice of the business community in International trade issues, Dean served as a member of the President's Advisory Committee on Trade Policy and Negotiations, Chairman of the US Council for International Business, Chairman of the US Coalition of Service Industries and Co—Chairman of the US-India Council, member of the Board of the US-China Business Council, and a Financial Governor of the World Economic Forum (DAVOS).
In addition, Dean was a Director of Fluor Corporation, HJ. Heinz Company; and AGL Resources; Chairman of the New Jersey Partnership; a director and a past chairman of the American Insurance Association. Most recently he was Chairman of Bolt Solutions, Inc.
He was also active in many Philanthropic organizations. Dean was a Co—Chairman for the Hospital for Special Surgery in New York; a trustee and chairman of the Financial Committee at St. Benedict's Preparatory School in Newark, New Jersey, a trustee of the University College of Dublin in Ireland (UCD), and a trustee of the Intrepid Sea Air 8L Space Museum in New York.
Dean received a BS in Financial Management from New York University in 1963 and an MBA from Pace University Graduate School of Business Administration in 1969.
Dean was a loving husband and father as well as a doting grandfather.
In lieu of flowers please make donations to the Hospital for Special Surgery www.hss.edu, St. Benedict's Prep www.sbp.org , or The Intrepid Sea Air & Space Museum www.intrepidmuseum.org.
Visitation will be held on Monday, December 11, 2017 at Gallaway and Crane Funeral Home, 101 S. Finley Ave, Basking Ridge, NJ from 12:00 – 3:00pm & 5:00 – 8:00pm. Funeral Mass will be held on Tuesday, December 12, 2017, 11:00am at St. James Church, 184 S. Finley Ave, Basking Ridge, NJ. Entombment will be private for the family. For further information, or to light an online condolence candle please visit www.gcfuneralhome.com