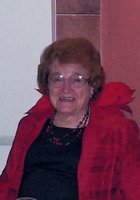 Evelyn C. Helmke
Evelyn C. Helmke, 95, of Fellowship Village in Liberty Corner died Saturday, December 2nd, surrounded by her family after a short illness. Evelyn was born in New York City and attended Memorial High School in West New York, NJ. She graduated from Cedar Crest College, Pennsylvania, in 1944, received her Master's degree from Columbia University, and taught Home Economics in Englewood, NJ.
Married to George Helmke in 1949, the couple settled in Bernard's Township where they have lived for 62 years, raising three children. Evelyn taught as a substitute teacher for 21 years at Ridge High School in Basking Ridge. She was active at both All Saint's Episcopal Church, Millington, and later St. Mark's Episcopal Church, Basking Ridge. She did extensive volunteer work with the American Field Service and the Visiting Nurses Association, where she worked at the rummage sale for 32 years.
Evelyn was a a devoted wife, mother, grandmother, and great-grandmother. She enjoyed bird watching, travel, and was an avid reader. Evelyn was known for her great cooking and hospitality. She created beautiful quilts, which have been passed to her large, loving family.
Evelyn is survived by her husband George Helmke, son Arthur Helmke (Mara Carillo), daughter Kathryn (Jack) Zoeller, and daughter-in-law Paulette Helmke, grandchildren Andrew (Sara) Zoeller, Alexander (Lara) Zoeller, William Helmke, Anton (Julia) Helmke, and Juliet Helmke, and great-grandchildren Evelyn Zoeller, Henry Helmke, Harvey Zoeller, and another great-grandchild due this week.
In lieu of flowers the family requests donations be made to St. Mark's Episcopal Church, Basking Ridge NJ, to benefit the church's youth programs.
A funeral service will be held at 3:00 PM on Saturday, December 9th, at St. Mark's Episcopal Church, 140 South Finley Avenue, Basking Ridge, NJ.