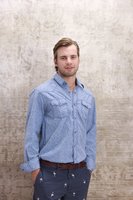 Jonathan L. Lynn
On September 18, 2017, Jonathan Lloyd Lynn of Basking Ridge, NJ, passed into the loving arms of his Heavenly Father.
Jon was 26 years old, born on September 5, 1991. He attended Ridge High School in Basking Ridge, Raritan Valley Community College and Southwestern Assemblies of God University (SAGU). He was a faithful member of Millington Baptist Church, the MBC youth group, and the Boy Scouts.
Jon lived his life with a passion for Jesus. He loved playing guitar, drama, photography and nature. He studied film-making in college and brought great joy to those around him.
Jon is survived by his devoted mother Carol Lynn, dear brother Christopher Lloyd Lynn, loving father John Scott and stepmom Michele, siblings Sarah and James, cherished grandparents Barbara D. Lynn, Frederick G. Lynn IV and his wife Donna Lynn, Jack Scott and Gloria Scott. He is also survived by many other dear and loving relatives including Aunt Susan and Uncle Jim Hobbie, cousins James and Elizabeth, Uncle Glen and Aunt Paola Scott, cousin Gabriel and countless friends around the country.
We will remember him as an extraordinary man who lived life to the fullest and touched the hearts of many.
In lieu of flowers, please donate to the gofundme page below to create a scholarship in Jon's name which will be given to someone who shared his passion for filmmaking:
https://www.gofundme.com/jon-lynn039s-final-burial-arrangement