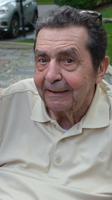 Andrew M. Gross
Andrew M. (Andy) Gross, age 80 of Bedminster, died Sunday, September 10, 2017 surrounded by his wife and family members. Andy was born in Paterson, NJ to Andrew F. and Margaret Gross.
Andy was the founder and President of Image Media Solutions in Raritan, NJ until his retirement in 2009. He graduated from Lycoming College in Williamsport, PA with a degree in Mathematics where he was a member of Sigma Pi Fraternity and active in his alumni organization. He graduated from Fairleigh Dickinson with a degree in Electrical Engineering. Andy was a salesman and entrepreneur at heart with a long, pioneering career in the computer industry from Western Electric, to Electronic Associates, Inc. to Wang Laboratories.
Along the way he helped many people find jobs or grow their careers, whether he employed them directly or used his contacts to network on their behalf. Andy was always warm and compassionate and willing to lend a hand. His sense of humor and optimism boosted the spirits of those around him. Andy and his wife, Lois, loved to entertain and he was known to break out in song at family parties (Andy also sang in a barbershop quartet and performed in local theatre productions). Andy loved the NY Giants, golf, dancing and dogs (and dogs loved him--certainly more consistently than golf or the Giants did!).
Surviving is his loving wife of 30 years, Lois (nee Riccardi), his children, Andrew Jr. (Sally) of Cloverdale CA, Karen Guetersloh (Mark) of Bedford MA, Cynthia Boorman (Jon) of Charlotte NC, Steven (Amber) of Hingham MA, Michael Mack (Vanessa) of Morristown NJ, and his sister Margaret Findlay of Paterson.; he was predeceased by his sisters Barbara Tiddes and Joan Kneis. Andy was a devoted grandfather to Andrew, William, James, Jillian, Nicholas, Ella, Alexander, Lydia and Betsy.
Visitation 4 to 8pm, Thursday, Sept 14 at Gallaway & Crane Funeral Home, 101 S. Finley Avenue, Basking Ridge. A Mass of Christian Burial will be held at St. James Church at 11am on Friday, September 15.
In Lieu of flowers donations to the Alzheimer's Foundation of America or Far Hills-Bedminster First Aid would be appreciated.