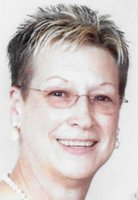 Carrol Eileen Kalsow
CARROL E. KALSOW
26 year resident of Bernardsville
Carrol E. Kalsow, 72, of Bernardsville, peacefully passed away at home on Sunday, April 23rd, after a 7 ½ month battle with brain cancer.
Carrol worked at Shop Rite in Bernardsville for over 5 years, and was a valued employee and a friend to all of her customers.
Carrol was previously a Licensed Practical Nurse for many years, and was also a dedicated and talented ceramic artist and instructor.
Carrol was born in Reading, Ohio to James Elonzo Wilkins and Eileen Elizabeth Courtney.
She is survived by her husband of 51 years, Dennis Charles Kalsow of Bernardsville, New Jersey, her mother Eileen, and her brothers Jim Dean, and John Michael, of Jackson, Michigan and her sister Kay Coleen of Dayton, Maine.
Carrol has 3 children and 8 grandchildren. Her daughters are Debra Lynn Kalsow of San Diego, California, Cyndi Kay Grego, of Jackson, New Jersey, and her son is Dennis Charles Kalsow Jr. of Phoenix, Arizona.
Her grandchildren are Charles and Whitney Edwards of Bernardsville, New Jersey, Amber and Tyler Kalsow of Phoenix, Arizona, and Nicholas Barbagallo, Sarah, Layla, and Philip Grego of Jackson, New Jersey.
Memorial Gathering will be held on Saturday, April 29, 2017 at Gallaway & Crane Funeral Home, 101 South Finley Ave, Basking Ridge, NJ, from 10:00am – 12:00pm. There will be a Memorial Service starting at 11:00am. For further information, or to light an online condolence candle for the family please visit www.gcfuneralhome.com
In lieu of flowers, the family has requested that donations be made to Heartworks of Basking Ridge, New Jersey, in the name of Carrol. www.njheartworks.org